SKF CC Type Spherical Roller Bearings
2020-04-14 16:06 Author:admin Click:
22205 CC/W33,Eric Bearing Limited has enough stock for SKF CC type spherical roller bearings,we exports enough quantity of CC type spherical roller bearings around the world every year
Spherical roller bearing has two rows of symmetrical rollers, the outer ring has a Shared spherical raceway, the inner ring has two raceway, and the vertical axis of the bearing into a certain Angle.The center of the outer ring spherical raceway is located on the bearing shaft.CC type-Two pieces of steel plate stamping cage, the inner ring without retaining edge and with an inner ring guide in the middle ring, it uses a pair of shaped spherical roller, compared with the CA bearing, it bears a larger load, longer service life.It has the characteristics as below: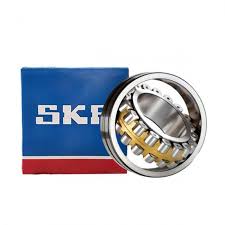 1. Allow misalignment
2. High carrying capacity
Spherical roller bearings are well designed to withstand not only high radial loads, but also heavy axial loads in two directions.
3. Long service life
The size and geometric tolerances used in the manufacture of rollers are almost identical to the roller set.The symmetrical self-aligning roller provides the optimal load distribution along the length of the roller and the special contour to prevent the peak stress at the roller end.
4. Low friction
Self - guided rollers keep friction and friction heat at low levels.The floating guide ring guides the unloaded rollers into the loading area in an optimum position.
5. Rugged and durable
All SKF spherical roller bearings are fitted with strong window or double fork cage.
SKF CC type spherical roller bearings widely used in Papermaking machinery, reduction device, railway vehicle axle, rolling mill gearbox bearing block, rolling mill roller, crusher, vibrating screen, printing machinery, woodworking machinery, all kinds of industrial reducer, vertical belt seat centering bearing.
We are welcome you contact us freely,need SKF 21308 CC/W33,click here