The Principle of Joint Selection For Joint Bearing.
2020-04-07 17:13 Author:admin Click:
The joint bearing is a spherical sliding bearing which can swing, tilt and rotate at low
speed and heavy load. Its characteristics are simple structure, small size and large
bearing load.Joint bearing is the beginning of this century 40s used in the aviation
industry, with the constant improvement of the mechanical industry automation and
modernization degree, joint bearings obtained great development, is now widely used in
engineering, lifting, printing, textile, agricultural machinery, truck, locomotive vehicle,
aircraft, metallurgy rolling equipment, satellite ground receiving equipment, rocket
launchers and other military projects.Therefore, the choice of joint bearing is of great
practical significance.Buy SKF
GE 20 ES-2RS
,Click here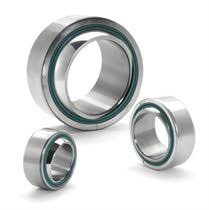 The basic principle of joint selection of joint bearing.
1.According to bearing types, dimensions, tolerances, clearance of bearing working conditions, the size of the effect on the bearing load, direction and nature of the material of shaft and the shell hole, convenient operation and etc for the choice of bearings and shaft and the shell hole.
2.The swing ring of the bearing is generally used with the interference fit, so that when the bearing is working under the load, the ring will not produce wear and relative rotation on the surface of the shaft and the casing hole.
3 to prevent sliding between inner ring and the shaft or crawling, inner ring and shaft should be preferred by interference fit, if convenient operation for or by using floating bearing, and must choose clearance fit, the journal must be hardened surface.
4. The influence of surplus on the radial clearance should be considered when using the interference fit.For occasions where the larger than the amount of excess capacity must be used, the original travel gap should be used for the bearing which is larger than the basic group clearance value.
5.The tolerance zone of the axis and the casing hole.
ERIC BEARING LIMITED enough stock for SKF Radial spherical plain bearings,you may click here to view more